I absolutely love the idea of featuring a signature at any event you throw - whether it's a wedding, corporate party, birthday party, anniversary, baptism, bridal shower or just a random get-together. Signature drinks don't need to include alcohol, it all depends upon what type of event you're having. For instance, some may find it inappropriate to serve an alcoholic signature drink during a Baptism reception, while others might find it perfectly acceptable.
The best part of a signature drink is that you can customize the name anytime you want because most people won't know what it is anyway. If you're looking to have your own "couture" drink for your event, get together with a bartender who's well versed in what ingredients mix well together for the yummiest concoction. Below you will find a list of drinks by color that have been tried and tested as de-lish!
Purple: Purple Flirt
Ingredients:
1 1/2 shots vodka
3/4 shot sambuca
2 shots cranberry juice
SHAKE all ingredients with ice and fine strain into a chilled martini glass
Pink: UV Pink Flamingo
Ingredients:
2 parts UV Lemonade vodka
1 part cranberry juice
Splash of triple sec
SHAKE with ice and strain into a martini glass
Blue: Blue Raspberry Martini
Ingredients:
2 ounces vodka
2 ounces raspberry liquor
twist of Curacao
SHAKE with ice and strain into martini glass
Red: Strawberry Sucker
Ingredients:
1 ounce vodka
2 ounces strawberry schnapps
club soda
1 strawberry, halved
FILL a tall highball glass with ice cubes. Add vodka and schnapps and top with club soda. Garnish with strawberry.
Green: Apple Green Martini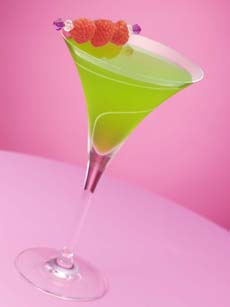 Ingredients:
1 1/2 ounces of vodka
1 ounce green apple schnapps
SHAKE with ice and strain into a martini glass
Yellow: Yellow Cab
Ingredients:
2 1/2 ounces vanilla cognac
4 ounces fresh pineapple puree
1 ounce fresh lime juice
1 ounce simple syrup
Splash of coconut milk
SHAKE with ice and strain into chilled martini glass
Orange: Orange Push Up
Ingredients:
1 1/2 ounces Captain Morgan original spiced rum
1/2 ounce grenadine
4 ounces orange juice
1 splash sweet and sour mix
BLEND ingredients with 1/2 scoop of ice and serve in a hurricane glass.
Have you offered a signature drink at any of your events or weddings? What did you name them? What recipe did you follow?